Click on the province of your choice to see a more detailed map of the route that we planned to ride. Over the course of the trip this changed slightly. The two most significant changes were cutting across the Gaspé Peninsula and taking the ferry to Argentia, NF, instead of Port-aux-Basques.
If you would like to see specifically where we were, and when, then take a look at either the Schedule page or check out our Trip Logs.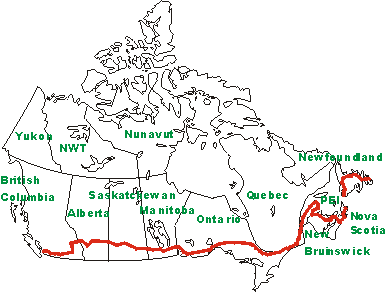 We did not actually ride the whole country, which had always been part of the plan. After researching possible routes through Canada, we felt that the section between Fort Frances, Ontario, and North Bay, Ontario, was too dangerous to ride. Consequently, many cross-Canada cyclists who wish to be on their bike from coast to coast choose instead to ride through the United States from Fort Frances to Sault Ste. Marie. "It is strongly recommended that cyclists do not ride Highway 17 – the Trans Canada Highway – through northern Ontario. The route's traffic and road conditions are no longer safe enough for cyclists" (Elliot Katz, The Canadian Cycling Association's Complete Guide to Bicycle Touring in Canada, Doubleday Canada Limited, Toronto, 1994, pg. 231). We felt that it was more appropriate for us to stay in Canada the whole time, and took the bus around this section. Additionally, there was a small section of Saskatchewan that we had to take a bus for, due to a breakdown that we couldn't fix by the side of the road.